Wowza! If you haven't had a chance already to see A24's "Hereditary", let me warn you...it is INTENSE. It was one of those films that engage you on such a deep level that you almost feel as if you are living in the film...
Basically the story starts off with the death of an older lady named Ellen. Her daughter, Annie (Toni Collette) starts to go to a support group for people grieving their loved ones. One of the other women in the group, befriends Annie and as soon as she enters the picture, teaching Annie how to become a medium, terrifying family secrets are revealed about Annie's mother. I don't want to go too much into detail and give away spoilers but I will say that this movie takes an interesting route in displaying to the audience the message: we are our families. We inherit the things they leave behind, from the skeletons in their closets to the color of their eyes.
I think one place where the film struggled though was presenting the symbols it incorporated and tying together what was shown with what we were supposed read in between the lines. I think you'll understand what I mean more once you see it. 
I recommend! But definitely bring someone to hold on to! 
Let me know your thoughts on this film in the comments below. <3 XO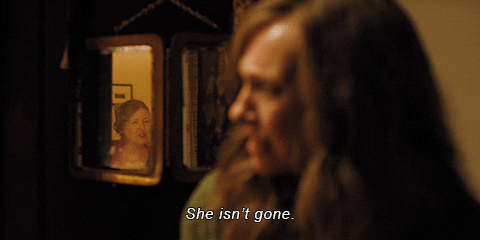 Please reload