To say the least...I'm obsessed with this one and I am very excited to recap and review.
This new Netflix teenybop rom-com is based off of the young adult book by Jenny Han, "To All the Boys I've Loved Before". 
If you are a fan of "Kissing Booth", you'll love this one.
Starring Lana Condor, "To All the Boys..." is about a sixteen year old named Lara Jean who lives in her romance novels. The story begins with her caught in a fantasy about her sister's boyfriend while reading...until she is interrupted and summoned to dinner. The dynamic of her family is what I love so much about this film. First off, it is diverse as you have a single Caucasian father raising his three Asian-American daughters after his wife's passing. What I also love about this family is their openness and closeness (mostly because it is something I can relate to). 
Lara Jean is devastated that her oldest sister, Margo, is about to move all the way to Scotland for college...but maybe this is her chance to spread her wings and break out of her romance-novel fantasies in order to live them out as a reality (at least that is what her younger sister, Kitty, thinks). 
Starting her junior year, Lara Jean thinks of herself as the girl who has been and always will be invisible (and she prefers it that way)...until Kitty takes it upon herself to steal the "love letters" Lara Jean has written to the five boys she has had intense crushes on — but these letters were never meant to be given to her crushes. Just an outlet for her to express her emotions. Kitty takes the letters and sends them to their addressed suitors. 
The first crush of Lara Jean to confront her on the letter is Peter Kavinsky (bf to Lara Jean's ex-bff, Gen — who is a total bitch). Simultaneously, as Peter is confronting her, her sister's (now ex) boyfriend, Josh, is approaching her with his letter. She has to think quick so she grabs Peter, making out with him so that her sister's ex thinks nothing of his letter and doesn't approach her. 
This single kiss leads to an idea by Peter...he and Lara Jean fake a relationship so that 1. she doesn't have to deal with her sister's ex and 2. Peter can get back at Gen for dumping him.
But...soon enough, this "fake" relationship leads to REAL feelings. 
I'll stop there so that I don't give anything away, but I HIGHLY recommend. 
I love how Netflix is bringing back teenage rom-coms (so 80s). 
What I liked:
-I really liked how it had the vibes of an "indie" style film, something I feel most young adult novel based films do not do.  
-The cast had GREAT chemistry
-The storyline is very unique
-Very modern and relatable to the millennial generation through both the quirkiness of the characters as well as small things like making sure they post Snapchats of each other (such a 21st century relationship LOL) 
-Also LOVE that this film is promoting diversity in film with it's protagonist being Asian-American
-NOAH CENTINEO IS HOT AF 
What didn't work:
-I wish they developed the relationship more between Josh and Lara Jean because it was hard for me to believe that they were (at one point) best friends. I just didn't feel that nostalgia or closeness. I know it's hard when you're adapting a novel into a screenplay and trying to fit everything in, but maybe just one extra scene or even just a line or two more with them... 
-I thought some of the voice over dialogue of Lara Jean's thoughts overcompensated. I know it's based off of a novel and they're trying to bring that first person narrative from the book to the film, but I thought some of the lines they chose took my attention away from the film and dragged on during certain scenes. It was almost as if it sounded TOO much like they were lines coming from a book. 
-The older sister, Margo, appeared significantly older than the two other sisters. She could have passed as their mom. But I was okay with it because their chemistry was very authentic. 
Overall, loved the film. I give it 4 out of 5 stars. (I'm a sap for cheesy teeny-bopper romances)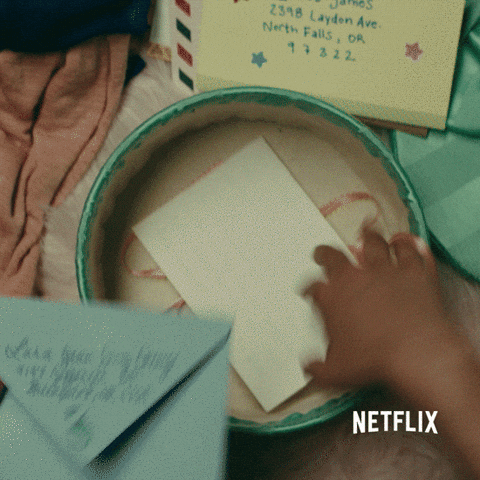 Please reload