Most creative minds know what this is like. To feel, in a sense, not motivated, or just not driven to be creating. We get caught up with so much and it's especially hard when your passion/art becomes your work. It can feel like a chore at times — and in this era of social media, you get so preoccupied trying to put yourself out there and trying to figure out how you're going to be successful, you forget to actually put the pen to the page or the art brush to the easel, etc.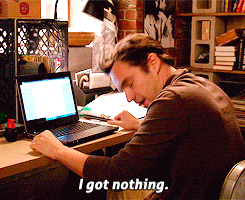 Here are some tips and tricks I have found useful, when in a Writer's Rut, and want to share with you:
Time yourself: Set aside a certain amount of time every day to write. Even if that means literally just sitting there and staring at the page or only writing one sentence. Progress is progress, no matter how small. :) I recently decided to help move along the editing process of my manuscript by setting a timer for just 15 minutes a day...and it works! Sometimes I go longer, but at least I have that 15 minutes to get me started and get me a little further than I was before.
 

Turn off your phone: Our phones are our biggest distractions (at least mine is). During that set aside time, turn your phone on silent or airplane mode, or whatever you have to do to get that quiet time where you're not constantly checking Instagram for updates on everyone's lives. Focus on YOU and your craft. <3
 

Write in a journal: We are our own biggest critics. Sometimes we just feel so blocked because we think what we're going to write sucks, is boring, whatever, blah, blah, blah. I say JUST WRITE IT DOWN. It can always be edited later. I remind people of this all the time. Especially artists because we seem to be harder on ourselves than others can be. Ugh. The gift and curse of being creative. Practice this by writing in a journal every morning when you wake up. Just three pages, write whatever comes to mind without thinking about it. Even if you have to write "I don't know what to write" for three whole pages. Do it. Make it part of your routine. It'll get you in the habit of not criticizing yourself and just WRITING. I promise, you will get something out of it. I learned this from a book (that I tell everyone about) called "The Artist's Way". CHECK IT OUT.
 
Let me know if you have any questions and make sure to leave your thoughts in the comments below. XO,
Alexandria 
Please reload